Latvian Memorial Park in the Catskills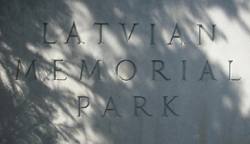 The Latvian Memorial Park is a Latvian Cemetery in the Catskills - a final resting place and memorial. It was established by the Latvian Disabled Veterans Association in the 1960os. The cemetery has urn spaces in niches (3 sections), in-ground urn spaces (1 section) and burial plots (limited selection of burial plots). The cemetery does its best to keep the ground neat and inviting - please come visit us!
CHRISTMAS WREATHS - ON SALE NOW!

Organized burial ceremonies take place twice a year: at the end of May (Memorial Day weekend) and in the fall. The fall ceremony in 2023 took place Saturday and Sunday, September 23/24. Due to the positive response from the previous two ceremonies, urn blessing ceremonies will continue be individual, but we will also offer shorter ceremonies right before the Sunday service as there have been more requests for that time. To secure an appointment, please write info@latvianmemorialpark.org or call! Ceremonies are led by Deacon Linda Sniedze Taggart. The spring ceremony for 2024 is planned for Memorial Day weekend May 25 and 26, 2024. The fall ceremony in 2024 is planned for October 5/6 (the weekend before Columbus Day).
Schedule of events for Spring ceremony weekend 2024** - subject to change!
(events take place at the Latvian Memorial Park, 414 Bloomer Road, Tannersville, NY 12485)
Saturday, May 25, Individual urn blessings 2pm-6pm. Please register in advance. Candlelight service will follow at dusk.
Sunday, May 26, Individual urn blessings 10-12pm. Shorter ceremonies 12.00-12.30. Please register in advance by sending an email to: info@latvianmemorialpark.org. A service will take place at 1.00 PM.

• On Saturday (6 pm) and Sunday (~2pm) ROTA will be offering meals, please, kindly reserve: (518) 589-9878. Pricing $25. (If you would like to host a repast at Rota at an alternate time, please call as well!)
The urn blessing ceremony will take place rain or shine; as a precaution, please bring rain gear! In the event of a severe downpour, we will wait until it passes and then resume the ceremony.

Flower deliveries for the ceremonies can be arranged with Howards Florist - tel.: (518) 943-4080. (When ordering, please kindly indicate the number of the gravesite or urn space.) Their hours are M-F 10am-4pm and 9am-12noon on weekends. (If ordering at other times, a delivery charge may apply.)
Cemetery address:
414 Bloomer Road, Tannersville, NY 12485. Click for map ...
For further information, please call (518) 589-5597 (ans. machine has staff contact no.) or email us.
The Cemetery office is located at the LKIA center 'Rota' - 82 Rota Road, Elka Park, NY 12427 - tel.: (518) 589-5597, fax: (866) 899-0735.

Cemetery visitors are welcome at Rota - lodging and meals available. Reservations @ Rota can be made with Terçza - (518) 589-9878.
2020 Christmas wreath pictures
Currently more information can be found in the Latvian version of this site, we are working on the English version and it should be updated soon!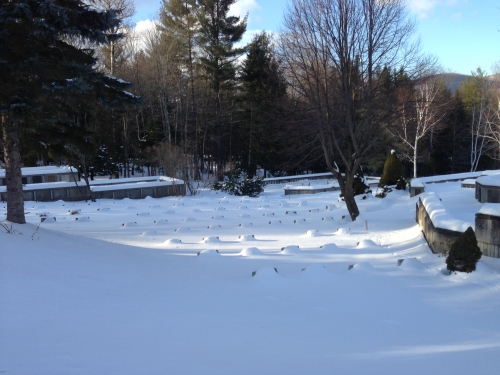 Winter snowfall, Latvian Memorial Park, January 2013.